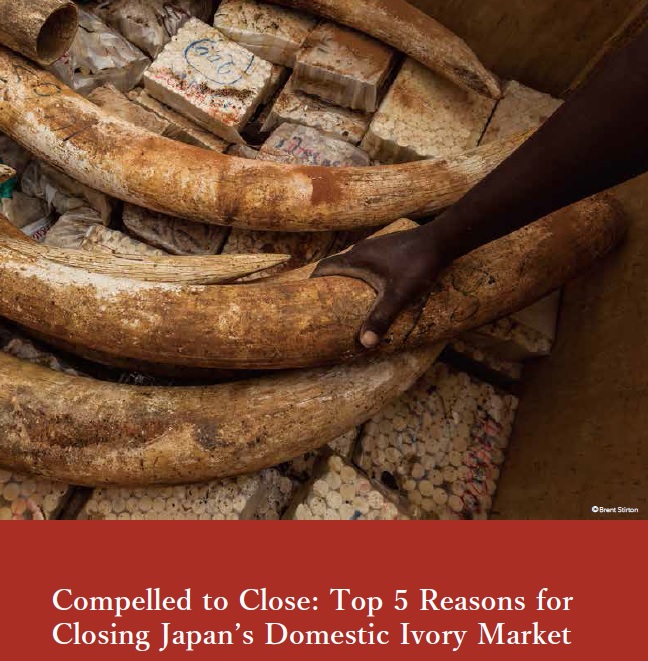 REPORTS: "Compelled to Close: Top 5 Reasons for Closing Japan's Domestic Ivory Market
https://www.jtef.jp/en/wp-content/uploads/2019/06/180603ivoryENG-1.jpg
648
661
Japan Tiger Elephant Organization
Japan Tiger Elephant Organization
https://www.jtef.jp/en/wp-content/uploads/2019/06/180603ivoryENG-1.jpg
May 31, 2019
TOKYO – Japan Tiger and Elephant Fund (JTEF) released its new report: "Compelled to Close: Top 5 Reasons for Closing Japan's Domestic Ivory Market" before the opening 18th meeting of the Conference of the Parties (CoP18) to Convention on International Trade in Endangered Species of Wild Fauna and Flora (CITES).
The closure of world's domestic ivory markets including Japan will be discussed at CITES CoP18 meeting. The government of Japan is planning to end a campaign promoting ivory registration at the end of May and introduce a stricter regulation on ivory registration procedure from the beginning of July, intending to get the recognition of international community on maintaining its ivory market.
The new report by JTEF presents a set of new data making it clear that the effect of the new countermeasure coming up in July is likely to be quite limited, the measures overall taken by Japan recently are far from being qualified as a control over a domestic ivory market, and that Japan has no choice than closing its domestic market to eliminate illegal ivory trade.
The "top 5 Reasons for closing Japan's domestic ivory market" are as follows:
Japan's legal ivory market is vulnerable to illegal export of ivory
There is limited implementation of strict punishment against recurring illegal domestic ivory trade
Japan has been legalizing and stockpiling whole tusks with unknown origin courtesy of the government's promotion of tusk registration, regardless of rampant fraudulent registration
Ivory dealers are proactively taking steps to neutralize the regulations on the whole tusk registration system, which will be tightened in the near future, abusing the loophole of the law that mandates only whole tusks be registered
The increase of ivory demand and expansion of ivory market in the near future in Japan are likely
This report was subscribed to Japanese government and the member states of CITES Standing Committee. It intends to urge Japan to transform its ivory policy without blind optimism before CoP18 and recommend SC member states to deal with Japan's ivory market strictly together with the other Parties in their region, which is still in business violating the CITES resolution adopted at CoP17.
In fact, there were several important moves in and outside Japan in this month.
37 members of the U.S. House of Representatives sent a letter to Japanese Ambassador to the US asking to close domestic ivory markets in May 7.
New York City Mayor Bill de Blasio sent a letter to Tokyo Governor Yuriko Koike to support a ban on Japan's ivory trade in May 8. The Governor Koike announced to conduct a survey on the ivory trade in Tokyo at first on May 17.
http://www.metro.tokyo.jp/tosei/governor/governor/kishakaiken/2019/05/17.html
Diet member Hiroyoshi Sasagawa from LDP, the dominant majority party, who is the former Parliamentary Secretary for Environment urged the Minister of Environment to take step toward closure in accordance with CITES resolution and to release a roadmap for implementation of the closure internationally before the Tokyo Olympics.
http://www.shugiin.go.jp/internet/itdb_kaigiroku.nsf/html/kaigiroku/001719820190510005.htm
It is clear that no time should be wasted in closing Japan's domestic ivory market.