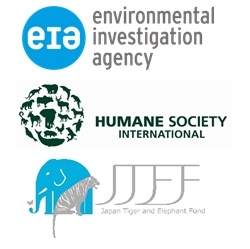 PRESS RELEASE: Tokyo urged to resurrect ivory trade assessment
https://www.jtef.jp/en/wp-content/uploads/2020/06/EIA-HSI-JTEF.jpg
250
249
Japan Tiger Elephant Organization
Japan Tiger Elephant Organization
https://www.jtef.jp/en/wp-content/uploads/2020/06/EIA-HSI-JTEF.jpg
WASHINGTON/TOKYO (June 26, 2020)— Elephant advocates worldwide are urging the Tokyo Metropolitan Government, under Governor Yuriko Koike's leadership, to complete Tokyo's elephant ivory trade assessment, which is examining the trade in ivory in Tokyo prefecture, and propose measures to address it. As Tokyo embraces the "new normal" and continues to adapt to address COVID-19, the advocates are renewing their plea to protect elephants by urging the Tokyo government to immediately restart the Advisory Committee on Regulation of Ivory Trade, which has been suspended for four months.
While Africa's elephants continue to be poached for their ivory, the government of Japan has failed to adequately control the legalized domestic trade in ivory, and loopholes in the superficial regulations have facilitated illegal trade. For decades whole tusks have been sold with no real controls in place to confirm legality. Eighty percent of raw ivory in Japan is processed into hanko signature seals. Japan's ivory trade is also an international trade problem, undermining other bans on ivory trade. Since 2018, local authorities in China have made at least 65 seizures of ivory from Japan.
Major Japanese retailers have ceased elephant ivory sales to eliminate their role in the illegal domestic trade and export, including Yahoo! Japan, Rakuten, Ito-Yokado, and Aeon.
In January 2020, the Tokyo Metropolitan Government announced the development of a new committee to examine Tokyo's ivory trade and regulations, and assess and propose measures to be taken by the Tokyo Metropolitan Government. The committee of eight experts met once in January, but subsequent meetings and an expected policy announcement in May were understandably put on hold. In March, 30 international and Japanese environmental and conservation organizations sent a letter commending the Tokyo Metropolitan Government's progressive action.
Iris Ho, senior wildlife specialist at Humane Society International, said "While governments worldwide are busy tackling the COVID-19 pandemic, unfortunately, poachers are not on lockdown and are seizing the moment to kill wildlife with impunity, as evidenced in the recent death of six poached elephants in one day in Ethiopia. A ban on the commercial ivory trade in Tokyo prefecture will inject a much-needed positive development in global conservation as humanity reexamines our relationship with nature."
The Tokyo-based executive director of Japan Tiger and Elephant Fund, Masayuki Sakamoto, said "While we are living and operating with COVID-19 in mind, Tokyo is evolving to be an international city in the 'new normal' time, which should ensure both the city's socioeconomic function and the residents' safety through measures including digitalization, which the government of Japan has failed at so far, while giving full attention to global standards. Now is the time for the vast majority of Tokyo residents to welcome steps to end the ivory trade, which has been mostly consumed just for carving hanko, in the face of elephants' distress and international criticism."
Last year, New York City's Mayor Bill de Blasio appealed directly to Governor Koike to close down Tokyo's ivory market and join New York City in taking steps to protect elephants from the ivory trade. Leading ivory consumer nations, such as China, the United States, and the United Kingdom, among others worldwide, have already taken steps to close their domestic ivory markets. Nations agreed at the 18th meeting of the Conference of the Parties to CITES (Convention on International Trade in Endangered Species of Wild Fauna and Flora) that those countries, like Japan, with open domestic ivory markets should report by the end of June 2020 on measures they're taking to ensure that their domestic ivory markets are not contributing to illegal trade.
Amy Zets Croke, senior policy analyst at the Environmental Investigation Agency, said: "Tokyo's progressive efforts to protect elephants are very welcome while Japan's national government holds the line to protect its ivory industry instead of elephants. The international community is eagerly waiting for the Tokyo Metropolitan Government to follow through with its commitment and process to assess the trade in ivory. We respectfully urge Governor Koike and the Tokyo government to take steps to ban ivory sales in Tokyo as soon as possible."